Magician's Blogs
Click on a blog below for an insight into the mind of a North East magician.
Or click here to read all of them!
It surprises me more than it does you to find that my ramblings are rated in the top 75 magic blogs on the internet! It's true! I've even got a badge to prove it…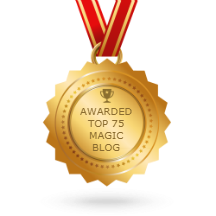 They're mostly just mindless self promotion, but they're occasionally funny or with some merit.
21st Party Hild & Bedes College Durham
We booked Jack for our son's 21st birthday dinner and it could not have gone better. He was brilliant. His approach of rotating around the tables with increasingly complex tricks was certainly appreciated by all and the feedback we received from our guests was excellent. It really contributed to the overall success of the evening. We also appreciated his subtle approach, blending seamlessly into the evening's events.