Magician's Blogs
Click on a blog below for an insight into the mind of a North East magician.
Or click here to read all of them!
It surprises me more than it does you to find that my ramblings are rated in the top 75 magic blogs on the internet! It's true! Ive even got a badge to prove it…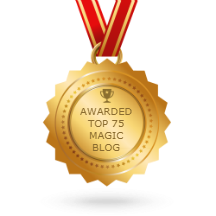 They're mostly just mindless self promotion, but they're occasionally funny or with some merit.
Wedding – Judge's Yarm
Thank you so much for being part of our wedding at Judges on Saturday…we were amazed at the tricks, and people are still stunned and questioning how you did them. It was a great part of the day. Thank you once again.